First I wanna say a big THANK YOU to AnderBeth for letting me write a guest post on her amazing blog! I was so honored she asked! If you've never seen her blog Eat Simply. Live Healthy., go check it out!!! Or even if you have, go check it out again! It's amazing!
She has such a passion of healthy living, and has some amazing looking dishes on there!
So THANKS AGAIN lady!!! 
So now on to what we've all been waiting for….TEACH ME THURSDAY!!!
Hope you all enjoyed last weeks Sexy Leg Workout! Was a killer right?!
Well now that our legs are getting ready for those summer time shorts, we gotta make sure the rest of our body is up to par as well.
I thought this week we'd focus on the whole body, not just one body part. Those swimsuits are going to be getting busted out soon, if they have not already, and we gotta make sure the whole package is lookin' good!
I found some moves all over the internet to incorporate and just made up my own little workout! Try it out, it'll target it all!
Full Body Workout
Stretch and start with a 5-10 minute warmup on the treadmill
repeat these 4 moves 3 times- resting 60 seconds between each set
Squat with Dumbbell Upright Row (15 Reps)-from Builtlean.com
Stand with feet a littler wider than shoulder length apart, toes pointing out slightly.
Bending knees out, bring weights down between legs, palms facing back.
Spring back up lifting weights to chin, elbows out.
Should look something like this! 
source
Plank With Reverse Row (10 Reps) -from FitSugar.com
Start in plank position with legs hip distance apart and dumbbells in hands.
Pull your navel to your spine to activate your core!
Exhale and stabilize your torso as you lift your right elbow up. Place your right weight back on the ground, and lift your left elbow. This completes one set.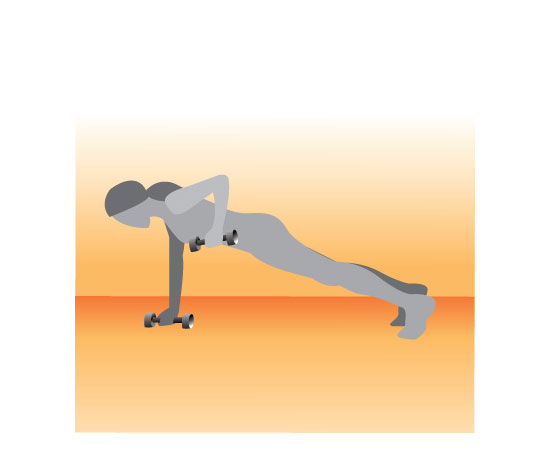 Source
Reverse Wood-Chop (16 Reps) -from SheKnows.com
Start by standing tall, one dumbbell between palms at chest level.
Squat down so butt is parallel to the floor, making sure knees do not extend out over feet.
As you squat, rotate torso (not hips) bringing weight outside of right hip.
Stand back up tall and bring weight above head. (avoid swinging weight)
Repeat on the left side completing one rep.
Do as she does!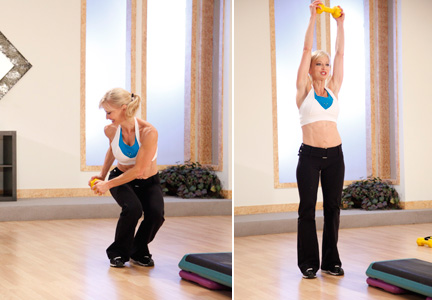 now to end with a favorite of all of ours I'm sure….
Burpees (10 reps)- from Looklikeanathlete.com
Begin in a shoulder wide stance
Quickly move in to a squat and crouching position with your hands on the floor
Kick your feet back in to a push up position and perform a push up
Bring your legs in together at the same time back in to the crouching position
Explode up and jump
Land in the same shoulder wide stance
This completes one repetition
Follow this sequence!
Remember to repeat these4 moves 3 times- resting 60 seconds between each set!
Finish off with a 5-10 minute cool down and some stretching!
Should result in a killer all body workout! Let me know what you think!!! 
What is your favorite full body exercise?
I'd have to say mine is the burpee, although it's a killer, it gets the job done!
Do you like doing full body workouts, or just focusing on one body part a day?! 
I like mixing it up, but when I'm short on time I like getting a full body workout in to make sure I'm targeting a lot of parts in a shorter amount of time!